sustina HYBRID
Diesel Hybrid
The World's First Hybrid Train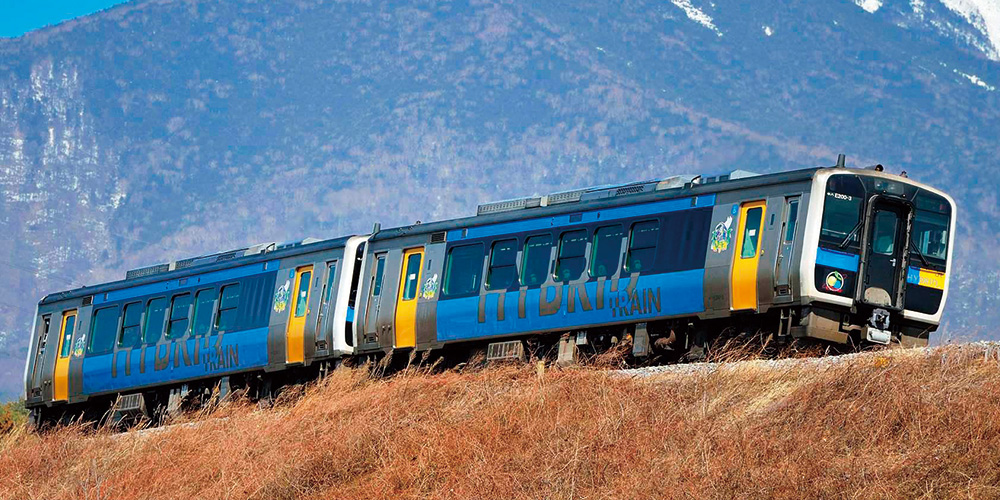 ・60% reduction in NOx and other harmful exhaust
・10% improvement in fuel efficiency
・30dB reduction in noise when stopped at stations
Diesel hybrid railcars offered by J-TREC utilize an innovative concept incorporating diesel engine generator and onboard storage batteries.
Electricity stored in the large lithium-ion batteries along with the diesel engine generator collaboratively work together to power the vehicle.
Combination of two power sources brings many benefits and advantages over the traditional diesel multiple units,
most notably in reduced exhaust emission, better fuel efficiency and quieter ride.
Vehicle maintenance can also be made simpler and easier by sharing common parts with electric multiple units
Example Technical Specification
Diesel Hybrid – Regional Transport
Train Consist
Single unit (multiple traction possible)
Passenger Capacity
117 (46 seated)
Maximum Speed
100 km/h
Hybrid Propulsion
IGBT inverter control 3 phase induction motors 2x 95kW
Lithium-ion batteries 15.2kWh
Internal combustion engine 1x 331kW
Generator 1x 270kW
Brake System
Pneumatic tread brake, regenerative brake feeding back to batteries, exhaust brake, security brake & parking brake
Battery Hybrid
EMUs on Non-Electrified Lines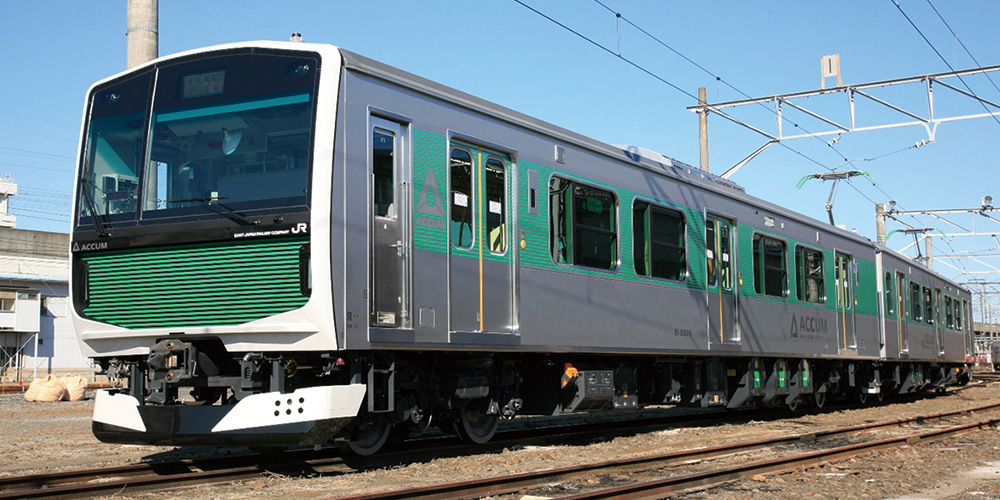 ・Eliminating catenary and associated facilities for minimal groundside infrastructure
・Long traveling range with "charging stops" along the route
・Interoperable between electrified and non- electrified lines
Together with JR East, J-TREC has developed battery-powered electric multiple unit. Internal combustion engine is removed from the vehicle and large capacity storage batteries are installed instead.
With a pantograph equipped on the roof, the train is capable of operating on electrified line withpower supplied from catenary wire and also on non-electrified line from power supplied solely by the onboard storage batteries.
Example Technical Specification
Battery Hybrid – Commuter Transport
Train Consist
2 cars
Passenger Capacity
266 (96 seated)
Maximum Speed
100 km/h
Hybrid Propulsion
IGBT inverter control 3 phase induction motors 4x 95kW
Lithium-ion batteries 190 kWh
1.5 kV DC catenary line
Brake System
Pneumatic tread & disc brake, regenerative brake feeding
back to catenary or batteries, security brake & parking brake
Traveling Range After Full Charge
40 km (depends on running condition)